Rihanna's Instagram ALMOST Banned, And 4 Other Rihanna Controversies
Rihanna has been a good girl gone bad long enough for us to develop a pretty high threshold for her antics, but apparently there are still some out there who are easily shocked by her behaviors. After posting a topless photo from her recent Lui magazine cover, Instagram removed the picture and threatened to remove Rihanna's account from Instagram. Um… what? Call us crazy but we're not so sure that boobs are something that could be called offensive, especially not Rihanna's perfect boobs! Then again, we've seen enough of Rihanna's badassery to develop a sort of tolerance to this sort of thing. Here are a few of Rihanna's antics that have helped cement her reputation as pop music's resident bad bitch.
Her kick ass tweets
As an outspoken user of social media, Rihanna is pretty used to telling it like it is on her twitter. And she is not one to shy away from a social media spat either. Victims of her hilariously clever comebacks have included everyone from MTV to the nameless few who have dared to cross her. Lesson? Never pick a fight with this bad gal.

Her outspoken love of weed
Rihanna makes no secret of loving the green stuff. From instagramming shots of her perfect little nugs to tweeting about her fabulously rolled blunts, we think we know who we would like to spend our 4/20 with next year.

Baring it all on social media
The Liu magazine cover isn't the first time Rihanna has posted her perfect figure on a social media sight. There was her nearly naked state of undress after the Victoria's Secret fashion show, as well her very revealing Barbados parade outfit. Honestly, what was Instagram expecting from her? A mumu?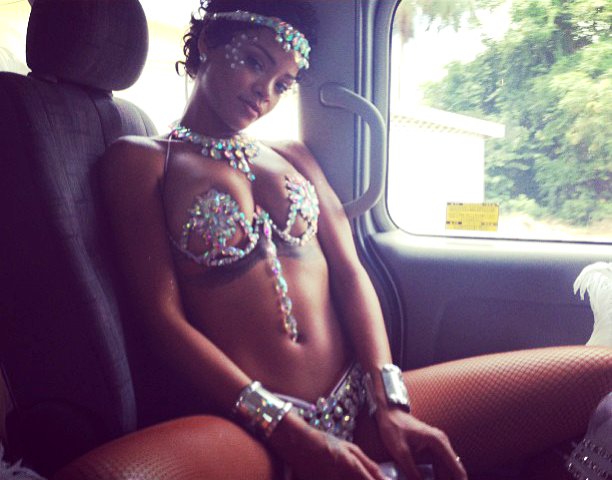 Chris Brown
Perhaps her most controversial moment of all, the violence, the feud, the reunion. It's a story that everyone knows by now, and one that cemented Rihanna as perhaps one of the biggest survivors in the music industry. Rihanna is no stranger to controversy and she will most likely keep making headlines for her behavior, so please Instagram, don't ban Rihanna, we all want to watch what she does next.