4 Magazine Cover Controversies
Fashion magazines have been having a tough time lately, and their covers often cause the most controversy. Hot on the heels of the latest Mindy Kaling cover controversy, it seems only right to go over some of the biggest magazine faux pas as of late. Here are our top 4 magazine controversies.
Mindy Kaling for Elle
For Elle Magazine's Women in TV issue, 4 ladies each had their own cover. This included Amy Poehler, Allison Williams and Zooey Deschanel. It also included South Asian TV star Mindy Kaling. Each cover was sexy and sophisticated in its own right. However, a rush of hatred burst out over Kaling's black and white close up cover. Though Kaling was quick to defend it, many thought that the cover was an attempt to belittle Kaling's heritage and physique. 
Melissa McCarthy
Prior to Kaling, McCarthy enjoyed her own Elle cover controversy. In honor of the Women in Hollywood issue, Elle featured Reese Witherspoon, Shaileene Woodley, Penelope Cruz and Naomi Harris on their own separate covers. Each of the actresses wore skintight, flesh baring outfits. Except for McCarthy who made her cover appearance in a bulky Marina Rinaldi coat. Readers felt that the magazine was attempting to cover up McCarthy's fuller figure while the actress herself claimed that the coat was her idea. She also came up with a rather snarky term for the debacle. "Jacket Gate".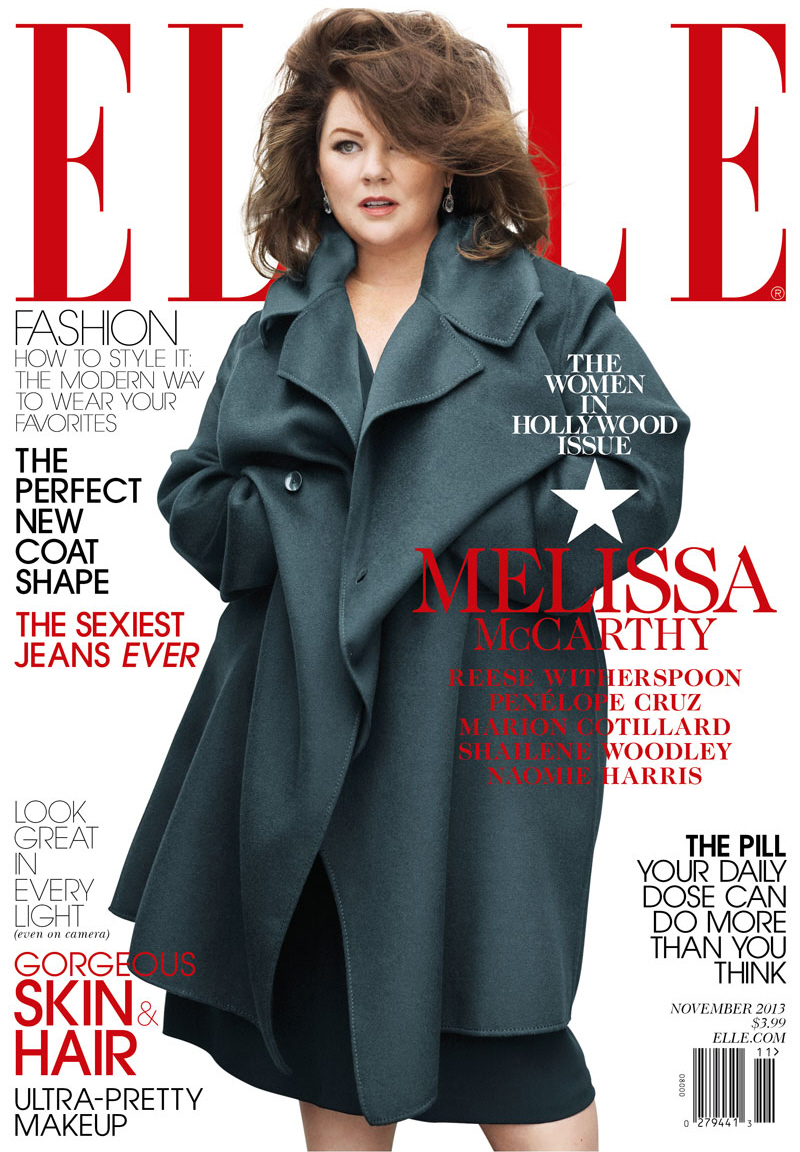 Jennifer Lawrence
The irony here is that the pinup figured actress has already taken a major stance against photoshopping and the Hollywood standard of beauty. Hence why the Flare cover photoshopping created such backlash. The magazine slimmed down Lawrence's already tiny waist and arms as well as adding definition to her cheek and collarbones. Ultimately removing a large portion of Lawrence's natural figure.
Karlie Kloss
In honor of Kloss' 18th birthday Italian Vogue featured her in a cover and spread meant to celebrate her naturally healthy, athletic body. The magazine included several semi nude photographs of Kloss in various balletic poses. The controversy came once when oddly posed photograph of Kloss ended up among several pro-anorexia websites celebrating Kloss for her pin thin physique. The magazine ended up taking down the photo off of their site, what is unfortunate is that Kloss does not look pin thin in the photo. Kloss has always been one of the few models to truly live a healthy lifestyle and in her more mature age, Kloss has even gained some pretty impressive curves on her 6'1 figure.